End of spring semester of freshman year, I joined Freetail Hackers, an organization that runs and organizes hackathons. These hackathons are friendly competitions intended for computer science majors (or anyone interested) to practice their coding skills. I worked on the Creative Team as an organizer throughout summer until the end of the fall semester of my sophomore year. At of the beginning of 2020, I moved up to become Freetail's Creative Director, continuing to design assets for the organization, but also managing a small group of designers. These assets include branding, marketing graphics, and merchandise (T-shirts, hoodies, badges, stickers, etc). Our biggest event is our annual HackTX, which hosts around 700-800 attendees each year.
Freetail has been one of my favorite organizations I've joined, as well as one of my favorite college experiences. I work alongside dedicated people who all enjoy creating these amazing experiences for our attendees. You can learn more about Freetail and its team from our website, freetailhackers.com, featured to the left.
During the COVID-19 pandemic, I got some time to re-design and re-brand the old website to fit a more inviting and modern aesthetic. I also included a section at the bottom where all the directors and organizers were able to link portfolio websites or Githubs if they so chose to, so they have the chance to showcase their individual work and attract employers. The graphic here is a gif from our homescreen.
Though during the COVID-19 pandemic, we've continued our annual HackTX tradition, except with a virtual twist. We began planning months in advance, with Creative Team coming up with the theme, Space Cowboy. As a whole organization, the teams (Creative, Logistics, Corporate, Tech, & Outreach) worked together to set a vision of what we wanted HackTX 2020 to look like. However, as this was all pre-pandemic, March came around with the first mentions of quarantine and we had to figure out what the best course of action was. Thankfully, we set a plan B in case October would be remote, so we were prepared.
Over the months leading up to October 2020, Creative Team ideated, illustrated, and created the HackTX 2020 website, as well as several flyers/graphics for social media. Our website contained a unique horizontal scroll, as well as multiple gif that made the site dynamic and exciting. In addition, we designed ads for our social medias to help promote the site, as well as quick instagram and snapchat stories to spread the word. I then personally worked with Tech team to create a very simple, but fun design for our event site, specifically made for the 3-day event.
Above is our fun & cheesy opening ceremony video to our vitual HackTX 2020, as well as a fun virtual background gif I created for the event.
Below is our swag/merch from the event. Freetail's budget, with the help of some sponsors, allowed us to have enough in the budget to ship out our Creative Team's designs. We had T-shirts, several stickrs, and sheriff-badge pins to match the Space Cowboy theme.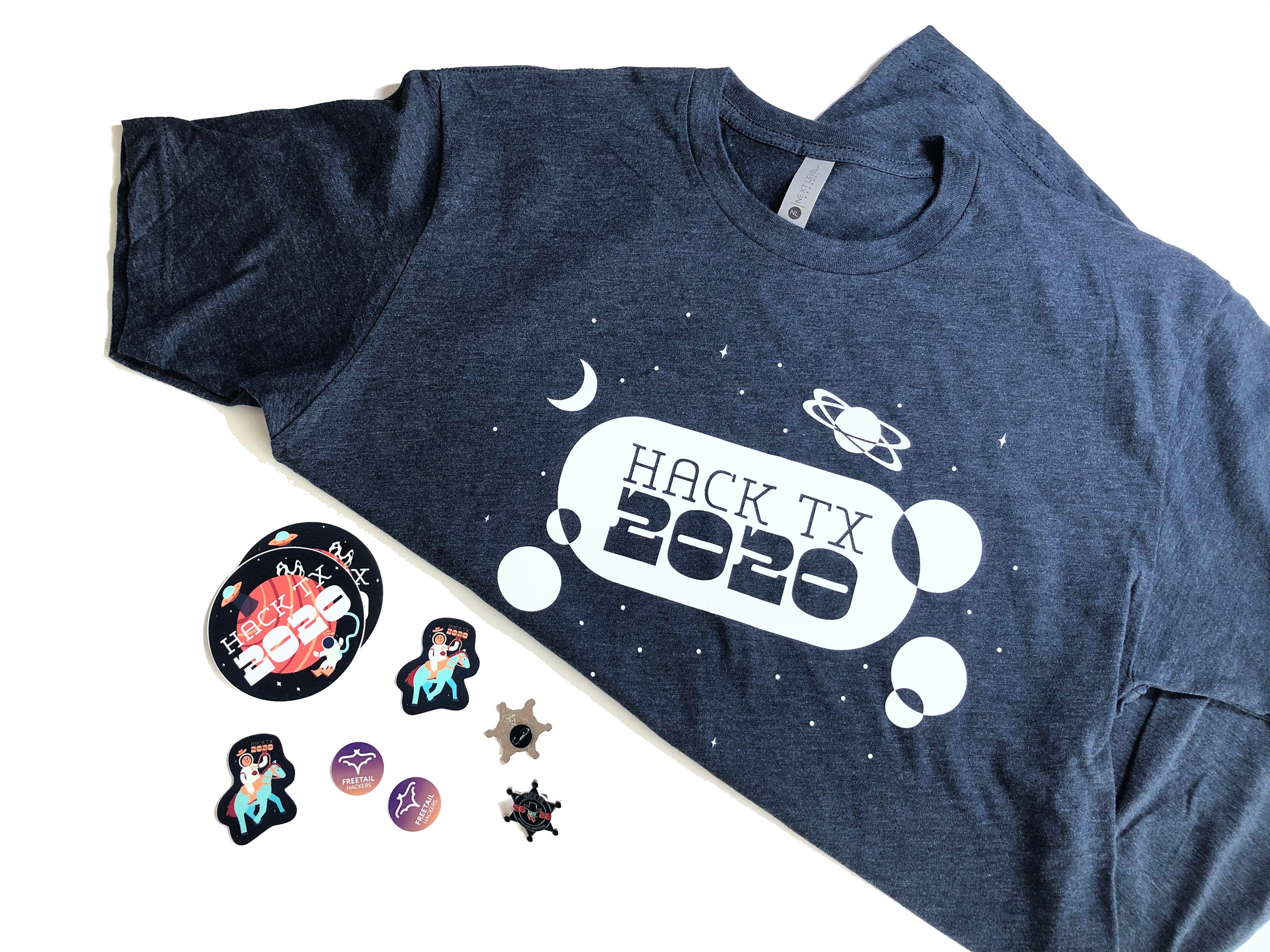 HackTX 2020 was a huge success, with over 900 applicants and some spectacular winning projects you can learn a

bout

here.
HackTX 2019 had over 700 attendees, not only from UT Austin, but from out of state as well. As part of the creative team, I helped conceptualize the theme for the year - "Austin outdoors" - and created visuals and graphics to help the event. This included the free swag that we gave out to the participants (left), the HackTX 2019 website, the way-finding signs and more.
This year, I worked as an organizer under Creative Director Josh Luo. I learned from Josh what kind of timeline we need for HackTX, and spent a lot of time ideating and talking with him about what we could create. This helped me prepare and get my current position as Creative Director in 2020.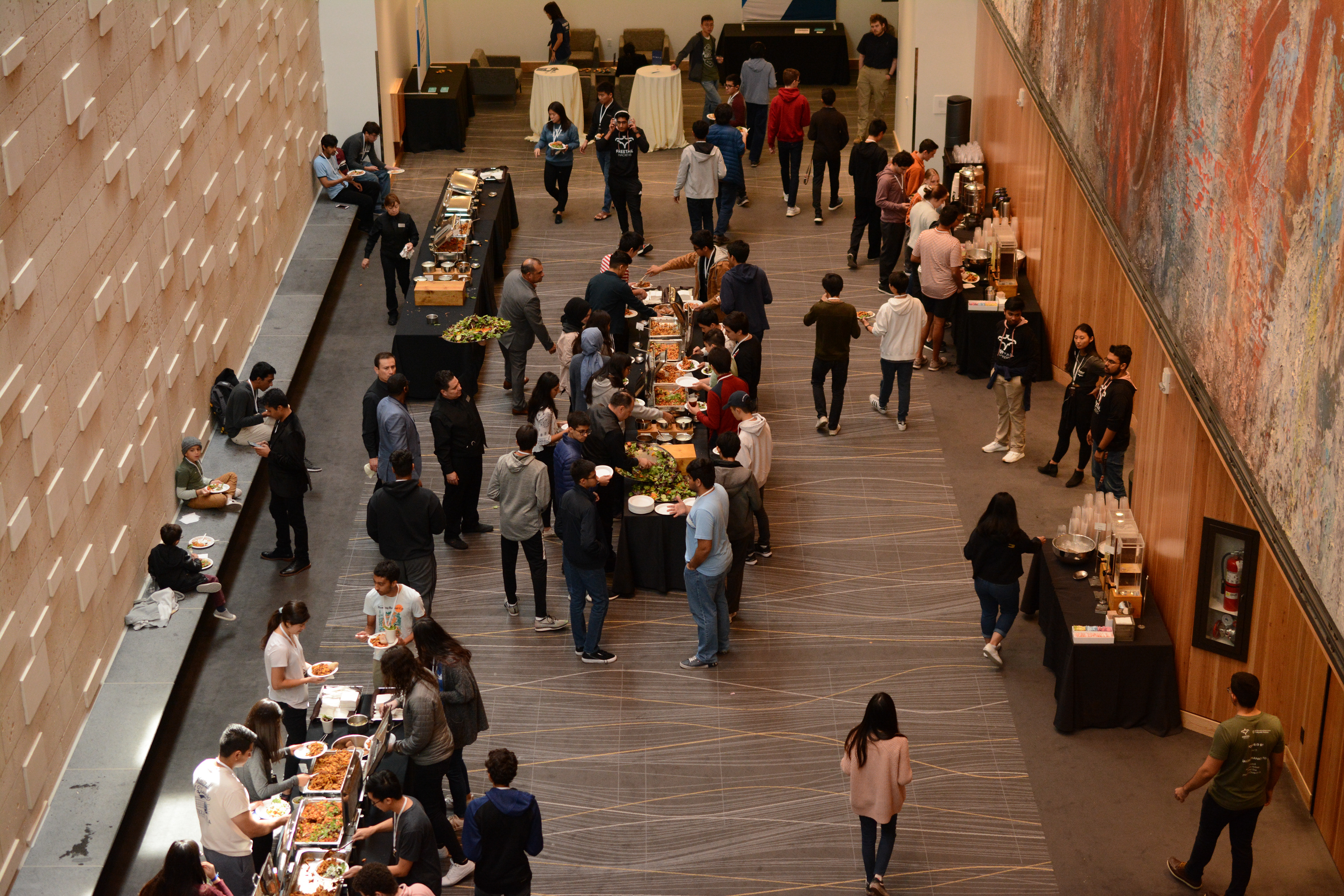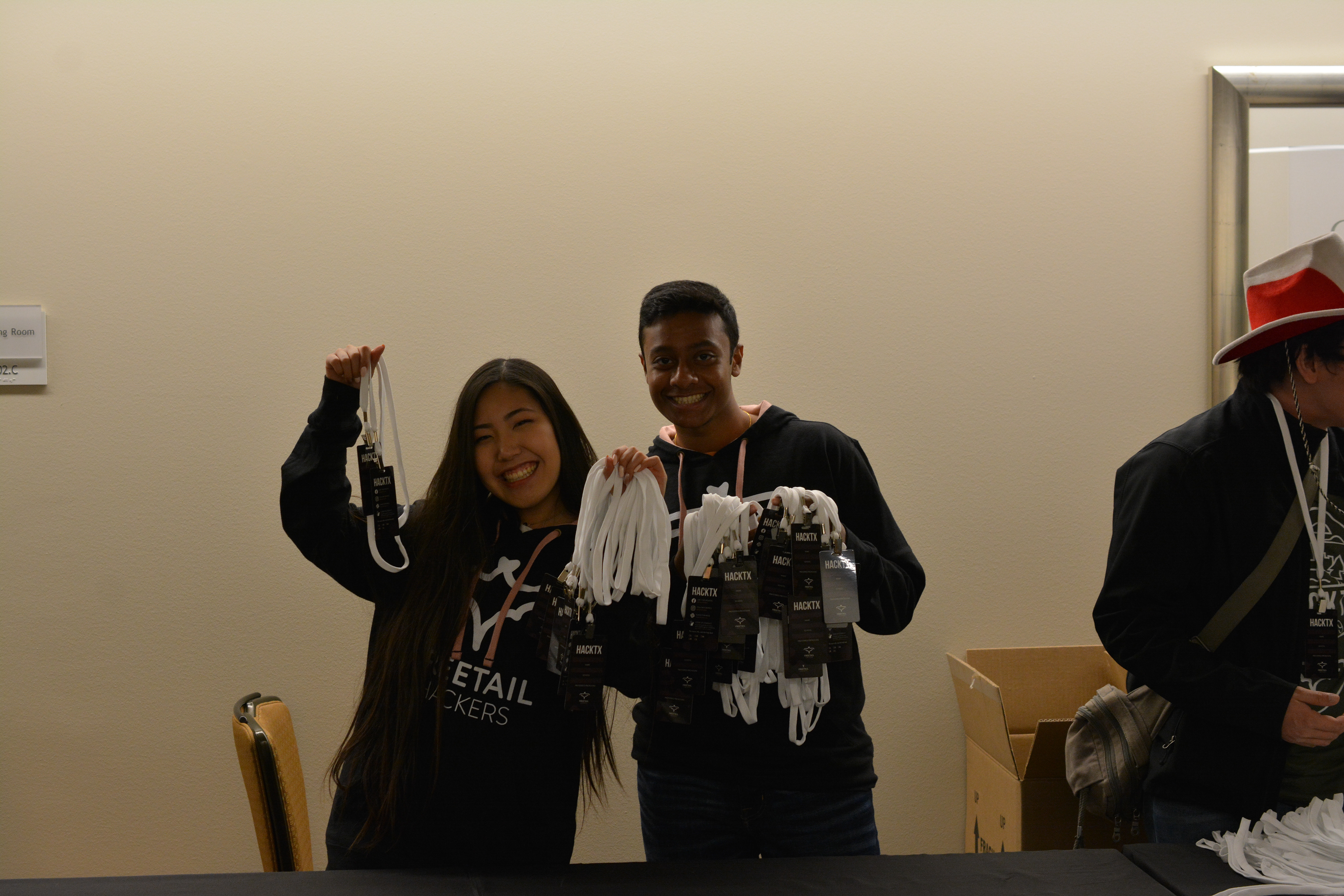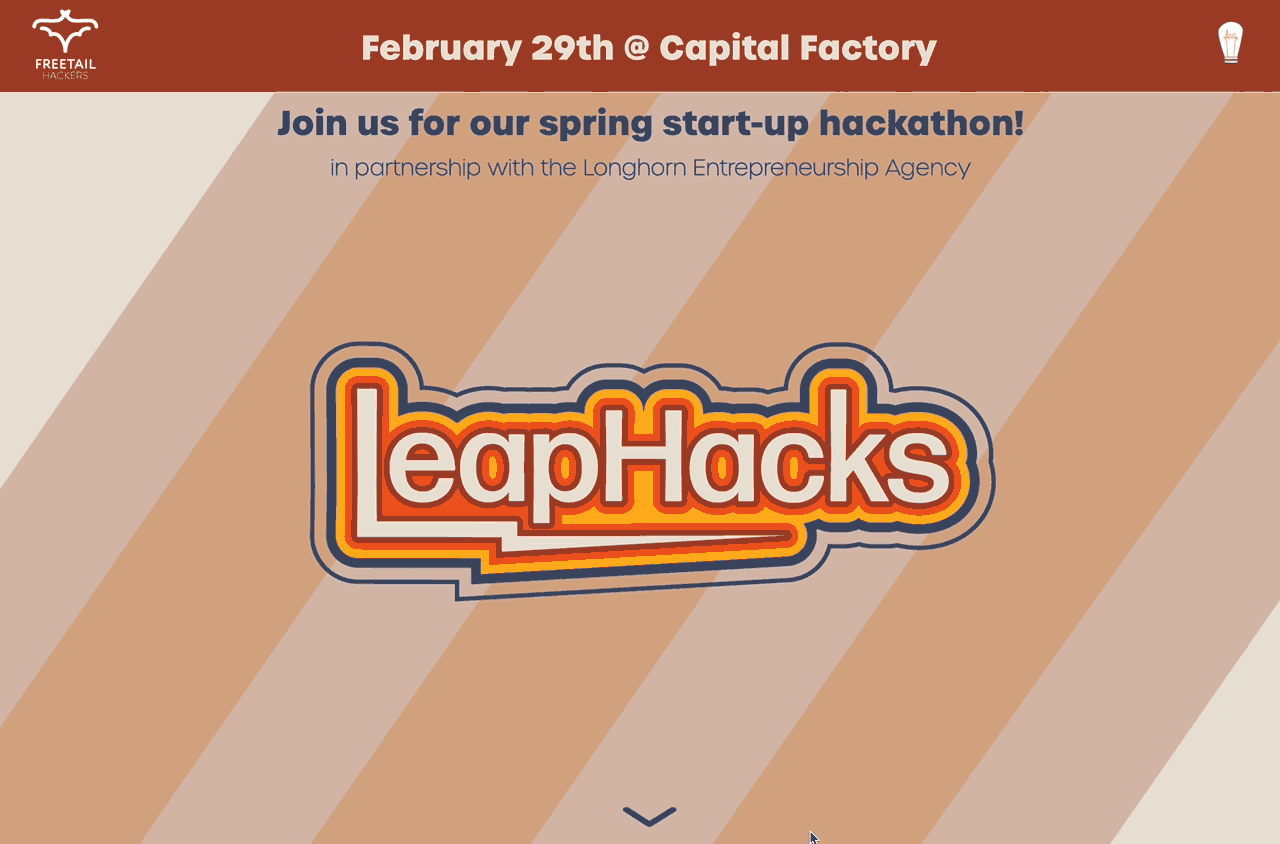 My first task as Creative Director in 2020 was creating the assets for LeapHacks -- our first hackathon of the semester. Smaller than HackTX, LeapHacks accepted a little over a hundred applicants to participate. This hackathon was geared towards entrepreneurship oriented projects (as a partner with the Longhorn Entrepreneurship Agency). That is why I went for a simple, clean look for LeapHacks' design, throwing in a bit of retro elements for fashion appeal. Ink (especially for the shirts) was costly, and I wanted something minimal & stylish for the participants to wear - not just at the event - but as everyday clothes.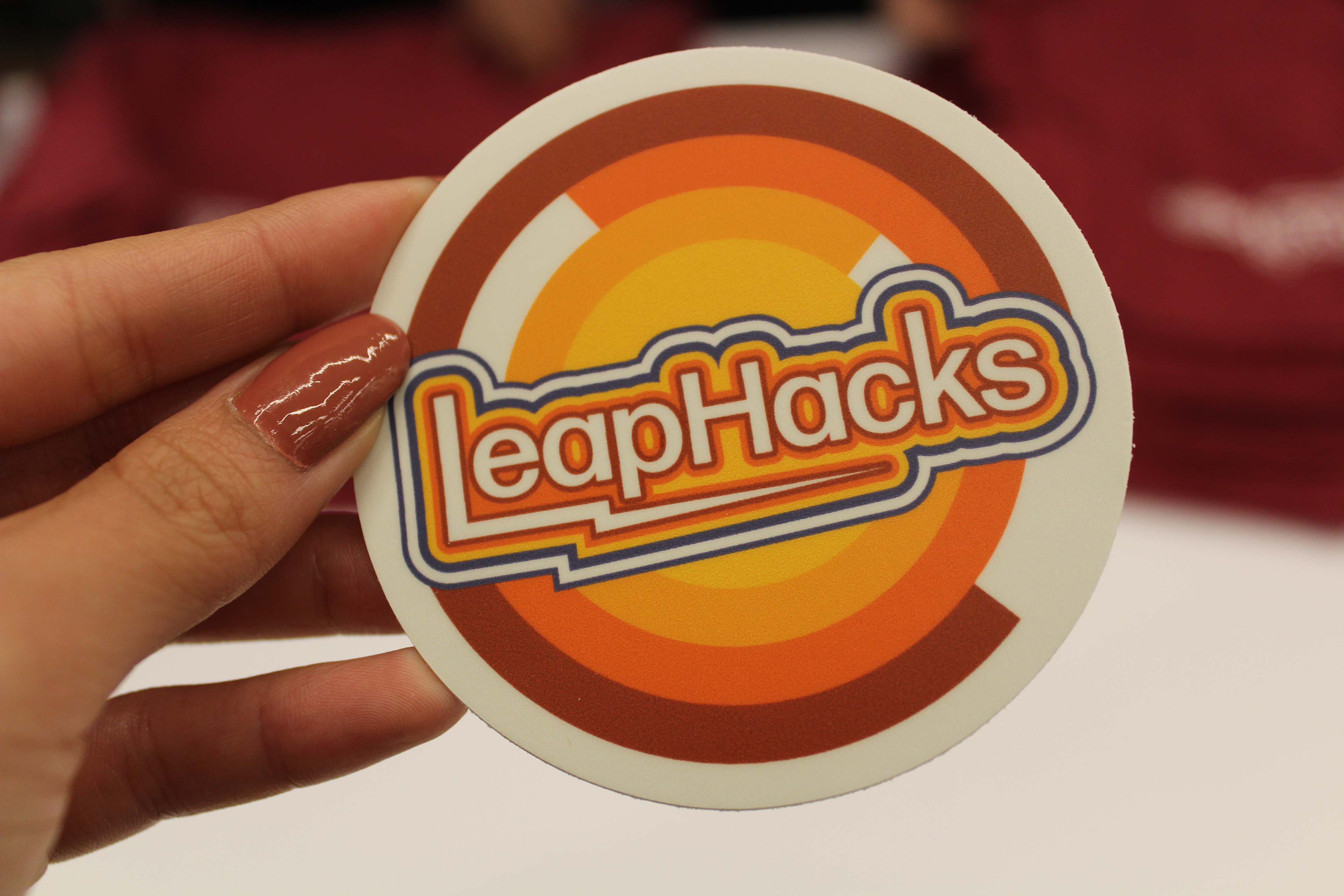 This was Freetail Hacker's first ever virtual hackathon (and our longest). Since the start of the COVID-19 pandemic, we knew that we might have to move future events online, and Summerhacks was our hackathon to start. It was a last minute idea created by the directors, however, we pulled it together pretty fast. Summerhacks was host to around 500 participants, many of which were international. We started the competition at the end of may and went on until mid-August, giving people plenty of time to create the best project they could.
I got to choose this hackathon's aesthetic, so I went with a retro 8-bit summer theme, to fit the virtual vibe. My team and I worked on 8-bit illustrations (which we later turned into gifs) for the website and icons used throughout the event.